John Clancy's Story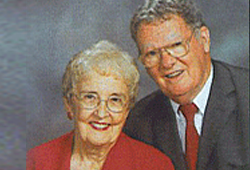 John is a retired school teacher from Detroit, Michigan. But, even in retirement, John still finds opportunities to teach by helping his daughters homeschool their children.

As a teacher, John watched secularism infect the minds of younger generations. He witnessed the harmful consequences as children became single mothers and fathers, drug abuse increased, and an interest in learning declined.

In an effort to change the direction he saw the country going, John began to support organizations who promoted his conservative values in Washington, D.C.

He chose to support FRC because "Family Research Council works to promote, nurture, and save the most basic unit of society, the family."

After retiring a few years ago, John doesn't have as much income as he used to.

However, he heard about the Pension Protection Act Congress passed in 2006, allowing him to make charitable contributions up to $100,000 tax free through his IRA. John simply called his account custodian and requested that contributions be made as part of his minimum distribution to his four favorite charities, including FRC.

John said the best part is knowing the distributions from his IRA are not taxed when he uses it to make a charitable contribution.