Hudd's Charitable Remainder Trust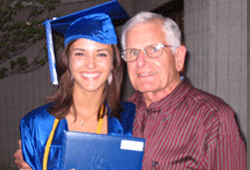 Hudd and one of his granddaughters, Kendall, at her high school graduation. Kendall shares her grandfather's passion for preserving faith, family, and freedom and has attended four FRC events in Washington, D.C.
Hudd is a native Californian. He's an entrepreneur and a God-fearing man.
Growing up during the depression taught Hudd the value of a dollar, hard work, and perseverance. He used these traits to start a construction company.
Hudd says he is a rich man because he has six children, fifteen grandchildren, and eight great-grandchildren.
In 1991, he heard about FRC through his involvement in Focus on the Family. Since then, Hudd has faithfully and generously supported FRC's mission to defend family, faith, and freedom.
At the sale of a piece of property, he decided to avoid a large burden of taxes by investing in a Charitable Remainder Trust (CRT).
Hudd receives a percentage of the total value of the CRT annually. At his death, the remainder will be given to the charities he's chosen.
One of those is FRC.
Hudd named FRC as a beneficiary of his CRUT because it's important FRC represent his family's values on Capitol Hill even after his great-grandchildren are grown.
Hudd:
We're always going to need a strong conservative voice representing Judeo-Christian values in D.C. I don't know of another organization that has the quality of leadership, as solid a reputation, and the effectiveness of FRC.