Meet the Staff
On behalf of Family Research Council, it is a pleasure to introduce you to our development team. We are privileged to serve you as you relate to FRC.

Since 1983, families have counted on FRC to be their voice on Capitol Hill and across the country. These friends and supporters enable us to shape public policy and public opinion on important issues that affect the American family. While issues may vary with time, our core values of Faith, Family and Freedom remain constant. These values will continue to steer us through the years ahead.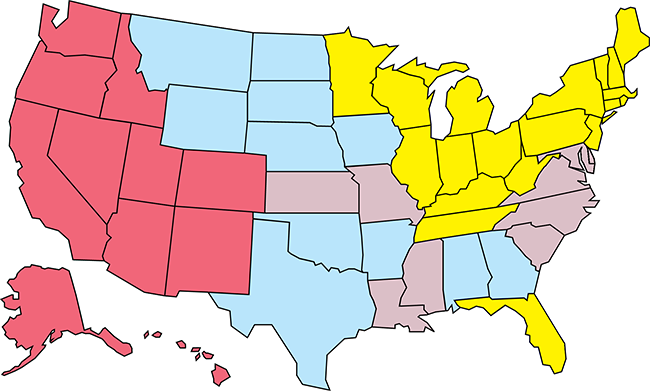 Click on the map to read the bio.

Chris CurryDirector of Charitable Gift Planning

Through Charitable Gift Planning, some supporters have utilized Gift Techniques to provide income for them and their family while making gifts to FRC. Additional estate and Gift Planning Arrangements have helped friends accomplish stewardship objectives which make an impact during and beyond their lives.

Friends who have chosen to designate Family Research Council in a gift plan qualify for membership in the Arms of Moses Legacy Society. Even though circumstances may change, requiring you to use all of your resources during your life, we would enjoy the honor of recognizing the decision you have made.

If you would like to speak in more detail about Gift Planning or the Arms of Moses, please call 877-372-0804, and ask for Chris Curry.
Family Research Council
Charitable Gift Planning Department
801 G Street NW
Washington, DC 20001
Telephone: 877-372-0804
Fax: 202-393-2134
e-mail: frcgiving@frc.org
Office hours: Mon.-Fri., 8 am - 5 pm ET

---
Chris Curry
Director of Charitable Gift Planning
– Nationwide
Assistant to the President
(KS, LA, MO, MS, NC, SC)

Chris joined Family Research Council in 2008 to lead our Charitable Gift Planning efforts. In this capacity, he assists supporters across the country in achieving their overall stewardship goals utilizing both simple and complex measures. Often, this involves underwriting FRC and other ministries with non-traditional gifts like appreciated assets and estate provisions, as well as establishing life-income arrangements and more. Additionally, Chris serves as the Assistant to the President of FRC in some select states.

With over twenty five years' experience in gift planning and development, Chris previously held similar positions with The Salvation Army and the American Bible Society. A graduate of Colorado Tech with a Bachelor's in Business Administration, he has also received numerous years of specialized training, including the completion of the National Planned Giving Institute at the College of William and Mary. Through this, Chris has become well versed in a wide variety of giving opportunities which aid people in managing what God has entrusted to them.

Chris and his wife, Dawne, have four daughters. Together, they are actively engaged in their community and church, serving in roles with the local schools, small group bible study leadership, the worship arts team and their church overseer's board.
---

Jay Riemersma first joined Family Research Council in November 2007, but stepped down from his role in 2009. During his time away, Jay mounted a bid for the US Congress in Michigan's 2nd District. While his message promoting the traditional values on which our nation was founded resonated with voters, he narrowly lost the race. Congress' loss has certainly proved our gain. In October of 2010, Family Research Council was pleased to announce the return of Jay Riemersma to our team. Today, he serves as our Senior Director of Development, strategically leading our field staff in advancing the message of Faith, Family and Freedom throughout the country.

As an ambassador for FRC and because of his unique background and gifts, Jay is well equipped to communicate FRC's vision with key supporters. If Jay's "difficult to pronounce" last name sounds familiar, you may recognize him from his successful football career as a University of Michigan Alum and his nine years professionally with the Buffalo Bills and Pittsburgh Steelers.

Today, Jay, his wife Cara, and their three children know first-hand what it means to engage in the cultural battle. They do this through his work with FRC, activities in their community and involvements in various civic organizations and their church.
---
Bill Held
Assistant to the President
(AL, AR, GA, IA, MT, ND, NE, OK, SD, TX, WY)

In July of 1998, Bill Held joined Family Research Council. As our most tenured team member, he has faithfully articulated to numerous FRC supporters, community leaders and philanthropists around the country how FRC is restoring the principles of faith, family, and freedom in America. Using a variety of FRC resources, he helps people become better educated and equipped to promote pro-family values in their own communities. In so doing, he has encouraged many people to invest their time and resources in the advancement of traditional family and the Biblical principles upon which this country was founded.

A graduate of Oklahoma City University, Bill earned his Bachelor of Science degree in of Business Management and Marketing. Prior to joining FRC, he served as Executive Director of the Oklahoma Family Policy Council, a non-profit research and education organization that works closely with FRC and Focus on the Family on pro-family issues at the state level. Before that, Bill spent 15 years in the commercial real estate industry.

Bill and his wife, Patty, have three adult daughters, two sons-in-law and two grandchildren.
---
Brandon MacCartney
Assistant to the President
(CT, IN, IL, KY, MA, ME, MI, MN, NH, NJ, NY, OH, PA, RI, VT, WI, WV & western part of FL)

Brandon joined FRC in the spring of 2013. Having been a long term supporter of Family Research Council, he has been engaged in our issues for many years. Today, he represents FRC throughout a significant region of the country promoting the values that have been true to his core. He offers a unique perspective to supporters of FRC because of how he became familiar with our work as many partners do, but now sees the inner workings of the organization on a daily basis.

Before coming on staff with FRC, Brandon worked in the private sector as the seasoned owner of a successful painting company working in commercial, residential, and specialty finish areas. He is a graduate of Houghton College with a B.S. in Exercise Physiology and a minor in Educational Ministry. In addition to playing Basketball at Houghton, Brandon also travelled to the Philippines, Central Asia, and Russia, playing basketball with Athletes in Action (AIA). While serving with AIA Brandon also participated in numerous evangelistic outreaches throughout Ohio, Kentucky, and New York, where they successfully were able to reach into high schools assemblies.

Brandon and his wife, Beth, actively serve in their local church in multiple functions. Among the many things he has enjoyed doing, traveling throughout the world on missions trips has been of great significance.
---
Al De La Roche
Assistant to the President
(AK, AZ, CA, CO, HI, ID, NM, NV, OR, UT, WA)

In September 2014, Al De La Roche joined Family Research Council (FRC) as an Assistant to the President. His role is to communicate how FRC is working to preserve the principles of faith, family and freedom to key supporters throughout the Western United States. As a native Californian, Al had a very rewarding professional career early on with IBM, and has spent the last 20 years in ministry, 18 of which were with Focus on the Family.

Throughout his career, Al has served in his church working with teens, serving as an elder and teacher. He is currently a board member for a ministry which reaches out to single mothers and their children. Having a love for the outdoors Al enjoys running the mountain trails of Colorado and hiking with his family. Al and his wife JoAnne home schooled their three biological children and in 2007 they adopted two children, a brother and sister, through a domestic adoption. In total, they have four grandchildren.
---
Cindy Johnson
Assistant to the President
(DC, DE, MD, VA, & eastern part of FL)

In March of 2016, Cindy Johnson joined Family Research Council (FRC) as an Assistant to the President. Her role is to communicate how FRC is working to restore the principles of faith, family, and freedom in America to key supporters in Delaware, Maryland, DC, Virginia, and East Florida. Using FRC's resource materials, she encourages citizens to become better educated and equipped to promote pro-family values in their own communities and around the country.

Since college, Cindy has spent over 28 years serving in various roles to support and communicate the mission of three global Christian organizations. Her love of God, family, children and serving others is what drives her to being involved in ministries and institutions that support these values. It was through her many years at Focus on the Family that she first heard of FRC and was educated on the issues impacting pro-family values.

Before making Colorado their home, Cindy and her husband grew up in Southern California. They love spending time outdoors, hosting friends and family in their home, watching movies, and walking their dog together.
---

In February 2004, Gil Mertz joined Family Research Council as an Assistant to the President, articulating how FRC is working to restore the principles of faith, family and freedom in America to key supporters throughout the Western portion of the United States. He currently serves as the Director of Foundations to seek donations from charitable foundations and corporations while also serving as the Master of Ceremonies for all FRC events.

Gil has been involved with full-time Christian service for nearly 40 years. He draws from a vast background of ministry with international missions, humanitarian causes and serving the homeless. He is a former pastor and the author of two books, Learn to 4 Give and Restoring Relationships and has been a featured speaker on Focus on the Family's radio broadcast.

Gil and his wife Patricia have three children and three grandchildren.
---

Terri Shepherd discovered FRC as a senior in high school researching information to help communicate her pro-life convictions to her classmates, teachers and family members. She earned a Bachelor of Science degree in Social Work from the University of Central Florida, followed by a year of ministry school in Kansas City, Mo. She has worked as a cast member at Walt Disney World and as a team leader at Chick-fil-A. Arriving in Washington, D.C. in September 2011, Terri first served as an intern for FRC's Marriage and Religion Research Institute (MARRI). By February 2012, she took on the role of administrative support for the development department. Terri and her husband, Josh, are active members in their church in the greater Washington, D.C. area and enjoy traveling, reading and exploring the outdoors.
---

Natalie Tarnoviski joined FRC in 2014 as the administrative assistant for the development department. Prior to joining FRC, Natalie interned for the office of Senator Pat Toomey (R-PA), Rick Santorum's Patriot Voices, and Concerned Women for America (CWA). She graduated from Cedarville University with a Bachelor of Arts in Political Science, and double minors in Public Policy and Bible.

Natalie gained a strong interest in FRC while interning in Washington, DC at CWA. Additionally, her Senior Research Project increased her interest as she answered the questions; "How do Millennials view marriage?" and "Is there a difference among evangelical Millennials and non-evangelical Millennials?" She used various FRC publications to supplement her research which was well received by her professors and peers.

She has two older brothers and her parents reside in her hometown in PA.
---