Meet the Staff
On behalf of Family Research Council, it is a pleasure to introduce you to our development team. We are privileged to serve you as you relate to FRC.

Since 1983, families have counted on FRC to be their voice on Capitol Hill and across the country. These friends and supporters enable us to shape public policy and public opinion on important issues that affect the American family. While issues may vary with time, our core values of Faith, Family and Freedom remain constant. These values will continue to steer us through the years ahead.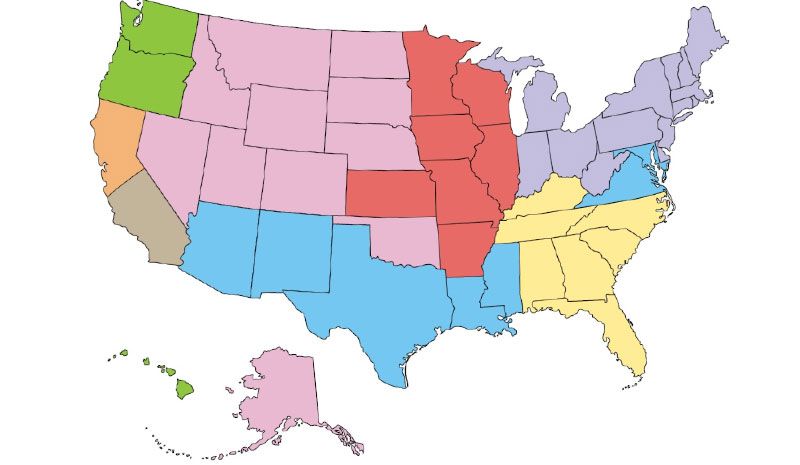 Click on the map to read the bio.

Chris CurryDirector of Charitable Gift Planning

Through Charitable Gift Planning, some supporters have utilized Gift Techniques to provide income for them and their family while making gifts to FRC. Additional estate and Gift Planning Arrangements have helped friends accomplish stewardship objectives which make an impact during and beyond their lives.

Friends who have chosen to designate Family Research Council in a gift plan qualify for membership in the Arms of Moses Legacy Society. Even though circumstances may change, requiring you to use all of your resources during your life, we would enjoy the honor of recognizing the decision you have made.

If you would like to speak in more detail about Gift Planning or the Arms of Moses, please call 877-372-0804, and ask for Chris Curry.
Family Research Council
Charitable Gift Planning Department
801 G Street NW
Washington, DC 20001
Telephone: 877-372-0804
Fax: 202-393-2134
e-mail: frcgiving@frc.org
Office hours: Mon.-Fri., 8 am - 5 pm ET

---

Scott Hurley, received his education from Lincoln Christian University and Trinity Evangelical International University in the areas of Christian ministry, preaching, leadership and church management. He holds a Certified Fund Raising Executive designation. He is an ordained minister, serving in various pastoral roles during his early career before being called into para-church ministry. Organizational roles have included CEO, VP, and Executive Director positions. Regarding fundraising roles, Scott has served as the Executive Director of Major Gifts at The Christian Broadcasting Network, Director of Development at The Navigators and most recently the Vice President of Advancement at Lincoln Christian University. Passionate about prayer, Scott looks for opportunities to help others develop a meaningful prayer life. He also enjoys playing the piano. Scott has been married to Lori for 34 years, has four adult children, a son-in-law, and a beautiful granddaughter.
---
Chris Curry
Director of Charitable Gift Planning: Nationwide
Regional Director of Development: (AR, IA, IL, KS, MN, MO, WI)

In 2008, Chris joined Family Research Council and has served on our development team in a few roles. He has represented FRC while visiting with partners and speaking with groups around the country about the effective work of FRC on the front lines. He has also worked closely with departments across the ministry as well as local churches, activist organizations, candidates and other groups to help advance initiatives that encourage people to engage in policy conversations and elections from a biblical perspective.

With over 30 years of experience specializing in Charitable Gift Planning, Chris spearheads this aspect of our development work on a national level. He helps partners across the country achieve overall Christian stewardship goals, utilizing both simple and complex measures. Often, this involves underwriting FRC and other ministries with non-traditional gifts like appreciated assets, estate provisions, and life-income arrangements.

Prior to joining FRC, Chris served with The Salvation Army and the American Bible Society. In addition to earning his Bachelor's degree in Business Administration from Colorado Tech, he has completed the National Planned Giving Institute at the College of William and Mary and numerous other continuing education programs, keeping him current in the charitable gift planning field.

Chris and his wife Dawne, have four daughters and two sons-in-law. Together, they are actively engaged in their community and church. They have served in roles with their local schools, bible study leadership, worship teams and church boards.
---
Darin Smith
National Director of Development
(Northern CA)

Darin Smith has had the privilege of working with FRC since June of 2018. He lives in Cheyenne, WY with his beautiful wife Alicia where they are raising five children (ages 6-17yrs). As a licensed attorney and businessman, his career has been anything but inside the box. He believes the ideals America was founded on are worth fighting for and has lived his life in pursuit seeing reformation in this coming generation. Darin is active politically and has become a pro-life and pro-family voice in his state.
---
Gil Mertz
Director of Foundations
Additional Special Assignment: (HI, OR, WA)

In February 2004, Gil Mertz joined Family Research Council as an Assistant to the President, articulating how FRC is working to restore the principles of faith, family and freedom in America to key supporters throughout the Western portion of the United States. He currently serves as the Director of Foundations to seek donations from charitable foundations and corporations while also serving as the Master of Ceremonies for all FRC events.

Gil has been involved with full-time Christian service for nearly 40 years. He draws from a vast background of ministry with international missions, humanitarian causes and serving the homeless. He is a former pastor and the author of two books, Learn to 4 Give and Restoring Relationships and has been a featured speaker on Focus on the Family's radio broadcast.

Gil and his wife Patricia have three children and three grandchildren.
---
Bill Held
Regional Director of Development: (AK, CO, ID, MT, ND, NE, NM, NV, OK, SD, UT, WY)

In July of 1998, Bill Held joined Family Research Council as an Assistant to the President, articulating how FRC is working to restore the principles of faith, family, and freedom in America to key supporters throughout the central United States.

Communicating FRC's message through individual meetings, receptions, and group events, Bill encourages supporters to invest their time and resources in defense of the traditional family and the Biblical principles upon which this country was founded.

Bill meets with community leaders and philanthropists who may not be familiar with FRC but are committed to conservative values. Using FRC's resource materials, he urges citizens to become better educated and equipped to promote pro-family values in their own communities and around the country.

A graduate from Oklahoma City University, Bill earned his Bachelor of Science degree in the disciplines of business management and marketing. Before joining FRC, he served as Executive Director of the Oklahoma Family Policy Council, a non-profit research and education organization that works closely with FRC and Focus on the Family on pro-family issues at the state level. Prior to that, he spent 15 years in the commercial real estate industry.

Bill and his wife have three adult daughters, two sons-in-law and four grandchildren.
---
Debbie Healy
Regional Director of Development: (AL, FL, GA, KY, NC, SC, TN)

Debbie joined FRC in the summer of 2017. She is a graduate of the University of Florida with a nursing major and health administration minor. Debbie worked in various RN positions, health administration and pharmaceutical sales. She has utilized her nursing skills during a medical mission effort to the Dominican Republic and later, her knowledge of the trade led her to be a vocal opponent of Obamacare in Colorado (CO). She has worked in the CO state legislation and has represented many faith-based, constitutional conservative initiatives and campaigns throughout the state of CO.

Debbie served in the U.S. Air Force Reserves in the nursing corps and attained the rank of Captain before resigning to give birth to their first child. She has been married 36 years to Tim, a former F-B111 Air Force pilot, now a captain on international routes with American Airlines.

They have two grown children, a son, Taylor, a former Army Infantry Officer, now a Hotshot Wildland Firefighter and daughter, Shelby recent graduate of CSU. Debbie's life experiences in health care, the Air Force, political activism and parenting combine to equip her for service on the FRC family team.
---
Michelle Humphreys
Regional Director of Development:(AZ, DC, LA, MD, MS, NM, TX, VA)

Michelle joined FRC in the Fall of 2018. She was saved at the age of 7 and called to ministry at the age of 17. She worked for Fox News as a reporter, assistant producer and health anchor. She worked with the Christian Broadcasting Network until she was awakened to the call of God to work with the FRC. Michelle was elected twice and served two terms on the Republican Executive Committee. She has an international ministry program called Grace Grace with Nina and Michelle that is broadcasted in the United States, United Kingdom and Africa. She has been married to Troy Humphreys since 1985, and they have three children and one grandson.
---
Brad Goodale
Regional Director of Development: (CT, DE, IN, MA, ME, MI, NH, NJ, NY, OH, PA, RI, VT, WV)

Brad joined Family Research Council in February of 2019. He holds a bachelor's degree in Marketing and is a graduate of the School of Christ. Brad has felt a calling on his life since an early age and has served the Lord in many areas including as a senior pastor.

Brad has planted several churches both nationally and internationally and has a true passion to see our nation return to the biblical foundation on which it began. Having worked for other international ministries, Brad is excited to join Family Research Council and to be a part of a team that is advancing the core values that made this great nation. Brad and his wife, Linda, have two children.
---
Janet Culverwell
Regional Director of Development: (Southern CA)
---
Terri Shepherd
Integrated Development Manager

Terri Shepherd discovered FRC as a senior in high school researching information to help communicate her pro-life convictions to her classmates, teachers, and family members. She earned a Bachelor of Science degree in Social Work from the University of Central Florida, followed by a year of ministry school in Kansas City, Mo. Arriving in Washington, D.C. in September 2011, Terri first served as an intern for FRC's policy department. By February 2012, she took on the role of administrative support for the development department and now serves as the Integrated Development Manager for direct response strategies. Terri and her husband, Josh, are active members in their church in the greater Washington, D.C. area and enjoy traveling, reading, and exploring the outdoors.
---
Madison Mealer
Administrative Assistant for Development

Madison Mealor serves as Development Operations Coordinator at Family Research Council.

She is currently pursuing Bachelor's degrees in Business Administration: Communications and Marketing: Sales Management and Professional Selling from Liberty University in Lynchburg, VA. She previously worked as an intern for FRC in the events department. Before joining FRC, Madison worked in the Development Department at Liberty University.

Madison is a Georgia peach who currently resides in Washington D.C. She is an avid college football fan and coffee drinker. She enjoys reading, hiking, adventuring, eating at hole in the wall restaurants, and spending time with friends and family.
---